Uprootedpalestinians's Blog
Human rights violations on rise in Bahrain
http://www.islamicinvitationturkey.com/2014/11/10/human-rights-violations-on-rise-in-Bahrain/
10:12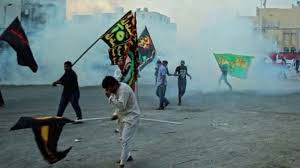 Human rights violations in Bahrain have significantly risen over the past year, a new report has warned.
The report by the Bahrain Human Rights Observatory (BHRO) said the Bahraini regime violated the religious freedom of the country's Shia population during the rituals of Ashura, the anniversary of the martyrdom of Imam Hussein (PBUH), the grandson of Prophet Mohammad (PBUH).
According to BHRO, the rate of such violations rose by 56 percent in comparison with the violations documented last year.
On Saturday, Sheikh Maytham al-Salman, head of Religious Freedom at BHRO, strongly condemned Bahrain's systematic violations of religious freedom during Ashura, saying at least 25 areas across the kingdom were targeted and subjected to violations during the commemoration ceremonies this year.
Sheikh Salman said Bahrain's security forces removed hundreds of Ashura manifestations such as black flags and banners. He said six preachers…
View original post 181 more words